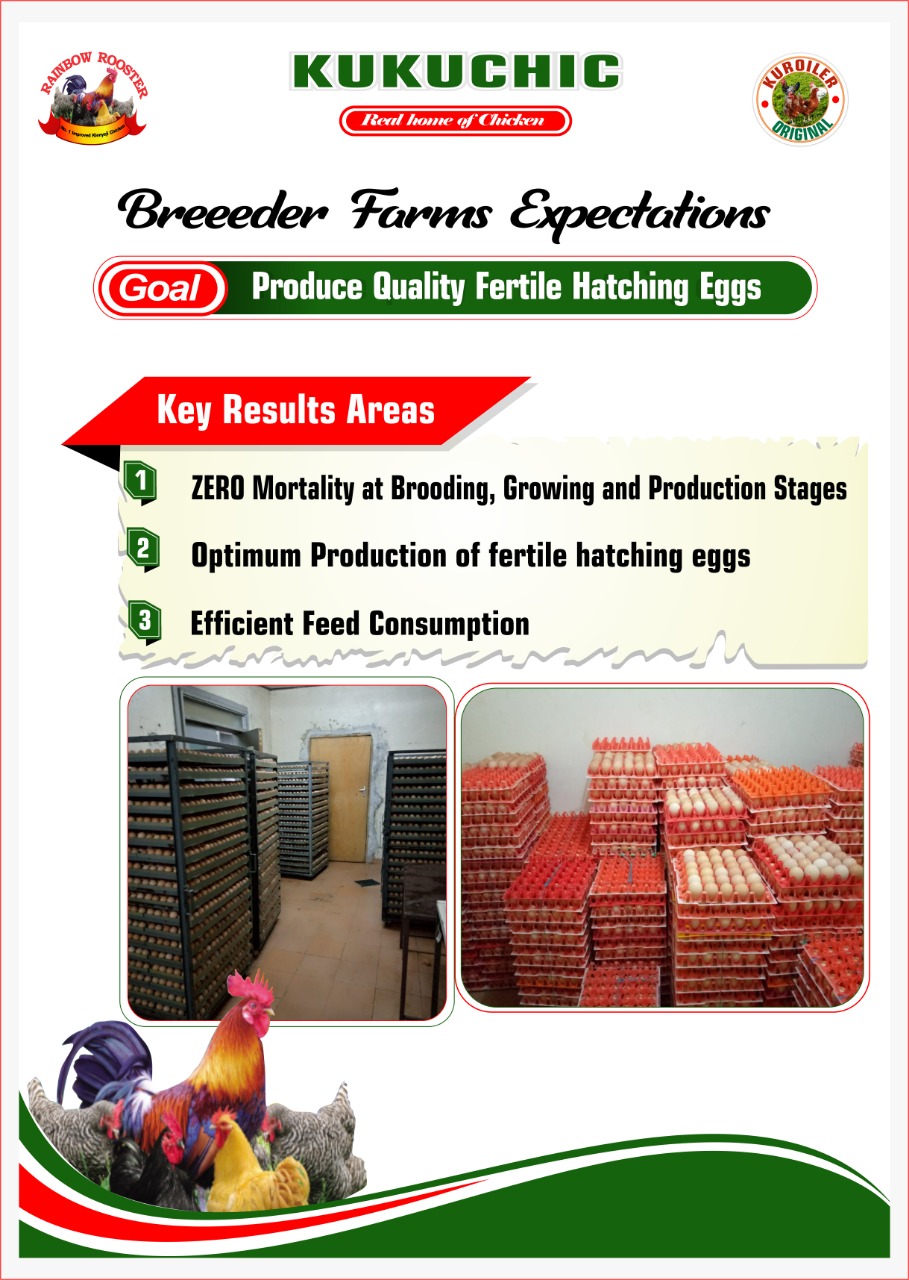 Kukuchic limited is a poultry breeding company specialized in production of day-old chicks .The breeds currently available are RAINBOW ROOSTER and KUROILER. These are kienyeji improved dual purpose breeds. The company sources the parent stock from INDBRO RESEARCH AND BREEDING FARMS (Rainbow Rooster) and KEGGFARMS (Kuroiler) both from India. To ensure that there is consistence in supply of fertilized eggs to the hatchery, timely planning for the sourcing of the parent stock is done.
Brooding and rearing of the parent stock is done in a farm in Uasin Gishu county called Plateau Farm. A capacity of 10,000 chicks are managed in every cycle. This involves all the fundamental management practices of the chicks and pullets before the point of lay. The management is basically done to ensure the breed standards are met. Some of the management practices includes; Vaccinations, body weight control, flock uniformity, Controlled lighting system, debeaking and deworming among other basic management practices.
When the pullets reach the point of lay at the age of 20 weeks, they are transferred to the production farms which are at different locations. One of the farms is in Uasin Gishu county (Kapseret Farm) near Eldoret International Airport and the other one is in Elgeyo Marakwet county for production of fertilized eggs. The eggs are kept in a cold room within the required standards and then transported to the hatchery twice a week for hatching.
During the growing and Production phases the flocks are managed in cages. This facilitates efficient feeding, high level of egg hygiene during production, high egg fertility through artificial insemination, body weight management of the flock, lighting programmes and also disease prevention manangemt practices among others.
We have put in-place controlled bio-security systems and procedures in the breeder farms to ensure there is no introduction and spread of the disease causing micro organisms. To achieve this the company has put proper measures which includes; having disinfection points in the farms, restricted accessibility to the flock units and also high level of hygiene.
The company has a capacity to accommodate 30,000 parent stocks which are kept at various stages of production in different houses per flock to allow all-in all-out management practices The company works hand in hand with the relevant government's departments for licensing through the veterinary laboratory and veterinary department for movement permits of breeder stocks and chicks and also the private sector for provision of feeds, feed analysis / testing, drugs and vaccine and other consumables.
The workforce comprise of qualified Breeder Farm Manager's, Supervisors and well-trained technical staff to handle the various aspects of the breeder farm operations.